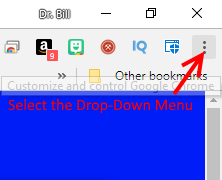 You can view our programming directly off of your PC shared to your TV, by using an inexpensive Google Chromecast device. In your Google Chrome Browser, select the drop-down menu at the far upper right-hand corner of the browser, as shown.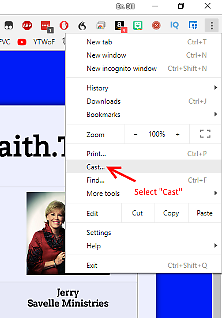 Next, select "Cast" from the menu.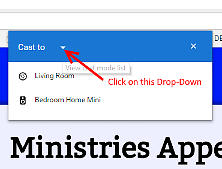 Once you have selected the "Cast" function, you will be presented with another option menu. This menu is not quite as easy to locate. You will have to select the small "down-arrow" option as shown to the immediate right of this text.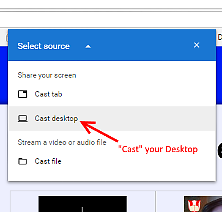 Now you may select the "Cast Desktop" option as shown in the image at your left. Casting your whole PC desktop will allow you to view, and control, everything that you can see on your PC desktop displayed on your television through the Google Chromecast.


If you cast only the current Tab of your browser, when you view a video, it will not display properly, as it will only show the current Tab, and the video will open in another, separate Tab.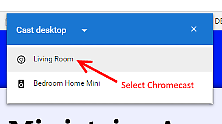 Now you may select the Chromecast by the name that you gave it when you set it up, in this case, it is called "Living Room." For detailed instructions on setting up your Google Chromecast with a name, see your instruction sheet that came with your Google Chromecast.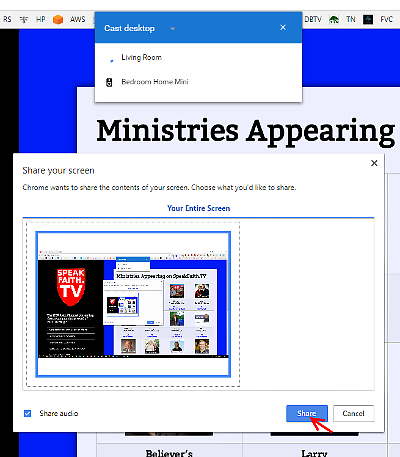 At this point, you will need to select the "Share" option to share your entire screen to your television via the Google Chromecast.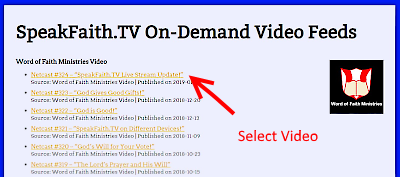 Now, select the video that you want to view from the "SpeakFaith.TV Video Feeds" page, by clicking on the title of the video, as shown to your immediate right.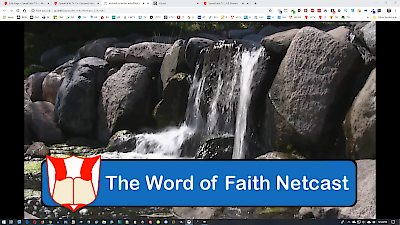 Your video will begin to play in a separate tab. You may click on the "expand" option at the lower right corner of the player to view it full screen.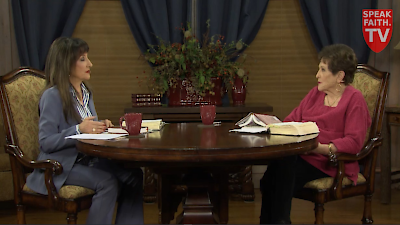 You may also watch our new SpeakFaith.TV Live Stream by going to the special "Short URL" address of: https://sftv.io and watching it Full Screen by clicking in the lower right corner.