What is SpeakFaith.TV? In order to answer that, we will be using, and defining, some industry-specific "buzzwords" and terms. SpeakFaith.TV began as a "Video On Demand" or, "VOD" service, primarily, but not restricted to, the Roku platform. "Roku" is a brand of "Over The Top" Television, or "OTT" system. Essentially, a set-top box connects to your TV, and to the Internet. This allows you to view Internet Protocol Television, or "IPTV" that is supplied by the Roku device. We also have a full Web-based IPTV Streaming Channel on https://sftv.io.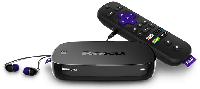 The Roku set top device is an inexpensive unit that can be purchased either from your local Best Buy, or from Roku directly, at THIS LINK. Now, we mentioned that SpeakFaith.TV is PRIMARILY a Roku Channel, but not EXCLUSIVELY a Roku Channel. What do we mean by that? Our programming may be viewed directly from this web site on-line. It can also be viewed on your TV via a Google Chromecast device. A "How-To" for this method is available HERE. Our IPTV Streaming Channel can also be easily set up on an Amazon FireTV, FireTV Stick, or FireTV Cube, with our instructional video available HERE.
What about our programming? Well, our founder, Dr. Bill Bailey, a Word of Faith minister, and a computer professional, was in prayer in 2008 and said, "Lord, there is a need for a Roku Channel that aggregates many of the excellent ministries that are teaching the Word of Faith!" To his surprise, God said, "OK, you do it!" Spurred on by this call, Dr. Bill began to research the necessary coding and procedures to create SpeakFaith.TV. Later that same year, SpeakFaith.TV was made available in the Roku Channel Store!
The vision to "showcase" ministries that are teaching the uncompromising Word of Faith message, which "calls those things that be not, as though they were" according to Romans 4:17, is now a reality! Watching the constantly updated programming on SpeakFaith.TV will help you develop your faith, and increase your reliance on the Word of God!
Both video and audio programming is available via SpeakFaith.TV. Our video programming can be viewed directly on your computer, or hand held device, HERE. And, our audio programming is available HERE. And, our SpeakFaith.TV Live Stream is available HERE. We believe SpeakFaith.TV will become YOUR resource for Word of Faith content! Be sure to share SpeakFaith.TV with all your friends and family on Email, Text, Twitter, Facebook, and other social media!